TOKYO MICRO CO.,LTD
TOKYO MICRO CO.,LTD
Devices, components and parts related to electrical and electronic devices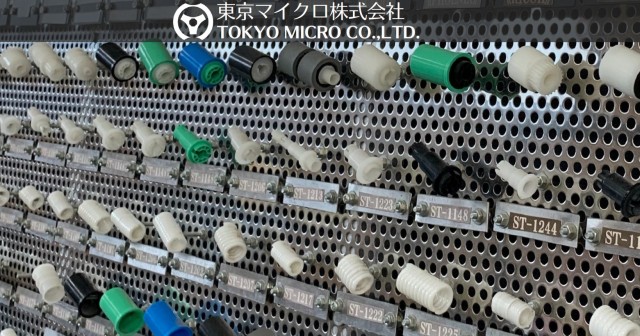 Our Products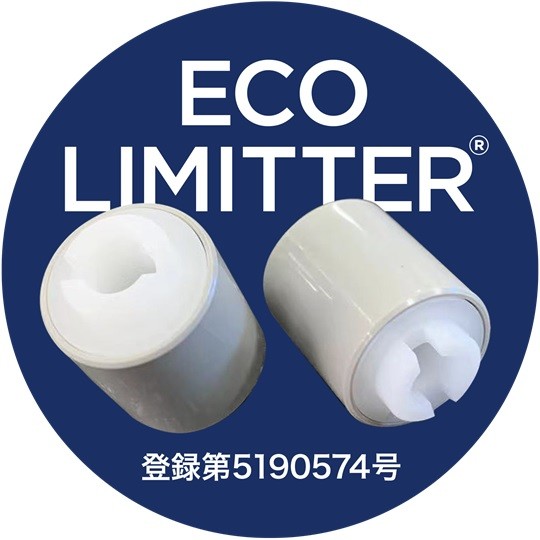 Eco Limitter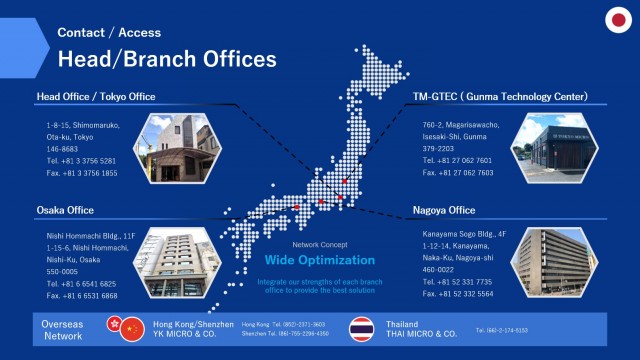 Our Contact Details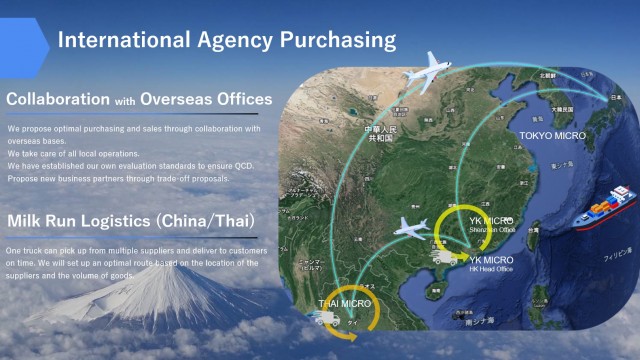 International Agency Purchasing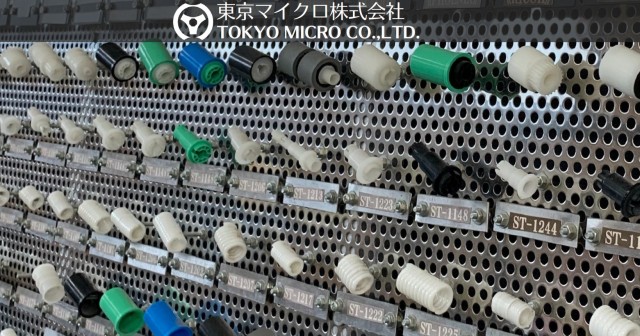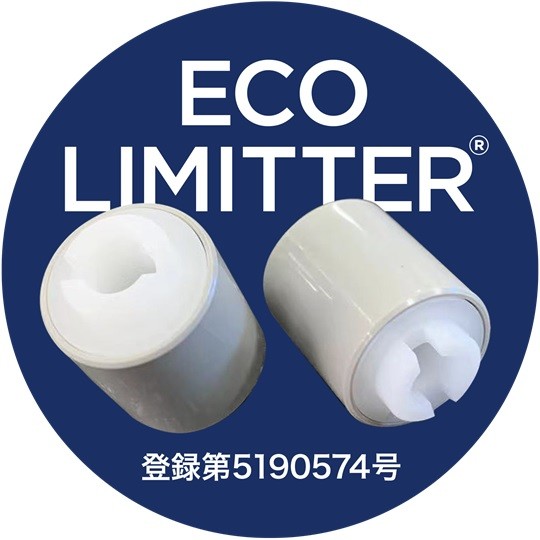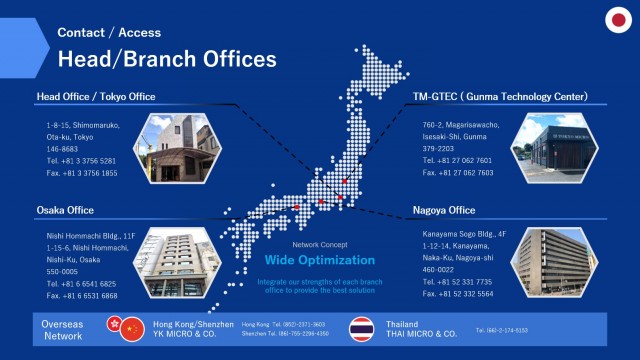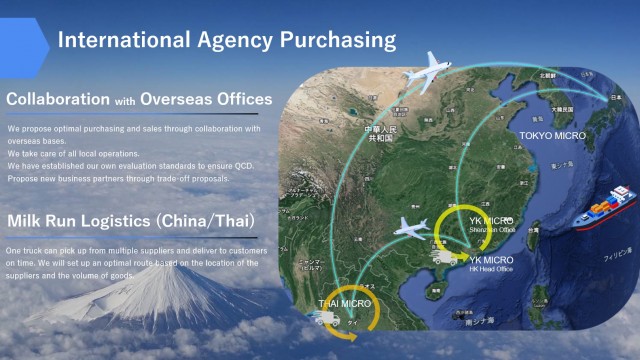 Tokyo Micro Co., Ltd. has been doing business with many major companies in Japan.
We are a trading company specializing in technology that has been in business for 60 years, with headquarters in Tokyo, Branch Offices in Osaka / Nagoya, and Gunma manufacturing, R&D and distribution bases in the Northern Kanto region.
We aim to be a leading company in the field of electronic components, mainly connecting Japanese products with the world.

As for overseas expansion, please feel free to contact us about product development for domestic and overseas markets for SME Japanese companies, as well as parts search / purchasing / procurement / production outsourcing mainly from China and Thailand. We will propose the best SCM solution for you.
Qualifications: Tax exempt ITC, ISO certification, green procurement, QC certification for major Japanese companies, etc.

To providing customers around the world with high-precision electronic components made with Japan's superior technology, we are expert in thoroughly researching "Motion Control".
The technology has already been adopted by many of the world's top manufactures for their products.

Our best-selling "Eco Limiter Series" products, which are compact, lightweight, and ideal for recycling, have been adopted by many of the world's leading manufacturers of office automation equipment, and have consistently received high praise.
And, we have a large selection of products from hundreds of Japanese precision component manufacturers.

If you need high precision and high-quality electromechanical components, we believe that be pleasantly surprised to find high quality products faster while offering competitive prices that exceed your expectations.
Also, you don't have to worry about currency, language, and logistics.
If you choose us as your business partner, we can provide you with a "one-stop service" and related consulting services to entering the Japanese market. Please appoint us first to meet your all needs.
Specialized Products, Technologies and Services
Limiter series
Eco-limiter series, one of our best seller product-line that have compact size, lightweight and ideal for recycling, has been purchased by many top players of OA equipment manufacturers in the world, and has always been highly praised.
Limiter series
Motor, clutch, actuator, solenoid, switch, sensor, pneumatic equipment etc. products made by famous Japanese manufacturers.
Current Status of Overseas Business
| | |
| --- | --- |
| On-site production | China, Thailand |
| Sales bases (incl. dealerships) | China, Thailand |
| Export | China, Thailand, USA, Vietnam, Malaysia |
| Import | China, Thailand, Europe, Vietnam, Malaysia |
| Outsourcing production /processing | China, Thailand, Europe |
| Technology partnerships | |
| R&D bases | Japan |
| Other | |
Key Business Partners
Canon Precision Inc.
Sawamura Denki Ind. Co., Ltd.
Sanyo Denki Co., Ltd.
Sanryusha Co., Ltd.
Sertec Corporation
Citizen Micro Co., Ltd.
Softronics Co., Ltd.
Tsukasa Electric Co., Ltd.
Tokushu Denso Co., Ltd.
Top Corporation
Adamant Namiki Precision Jewel Co., Ltd.
Nidec Copal Corporation
Nidec Copal Electronics Corporation
Nidec Servo Corporation
Fujii Electric Works
Hirosawaseiki Seisakusho
Ogura Clutch
Sanryusha
Sigma Giken
Takano
Shinmei Electric
Takano
K&D
Taiyo
CKD
SMC
Future Target Countries and Regions
Asian, America, Europe, Oceania
Overseas Business Prospects
Company Information
| | |
| --- | --- |
| Representative | HIROSHI KUBO |
| Address | 1-8-15 Shimomaruko,, Ota-ku, Tokyo 146-8630 |
| URL | https://www.tokyomicro.co.jp/ |
| Established in | 1964 |
| Capital | 100 million yen |
| Employees | 63 |
| International Certification (e.g. ISO) | |
Contact
| | |
| --- | --- |
| Name | John Yang |
| Position | |
| Tel | +81-3-3756-5281 |
| Fax | -- |
Ota City, Tokyo. Home of the excellent 4,200+ manufacturers
View Details