OGURA JEWEL INDUSTRY CO., LTD.
Machine components and parts
Molds, jigs, tools, gauges
Metal machining
Processing of glass, ceramics and composites
Processing of special materials
• We specialize in precision machining of abrasion-resistant materials.
• We produce products based on client specifications.
• We supply products to every field, including machine tools, semiconductor manufacturing
equipment, analytical equipment, medical devices, and industrial equipment and instrument.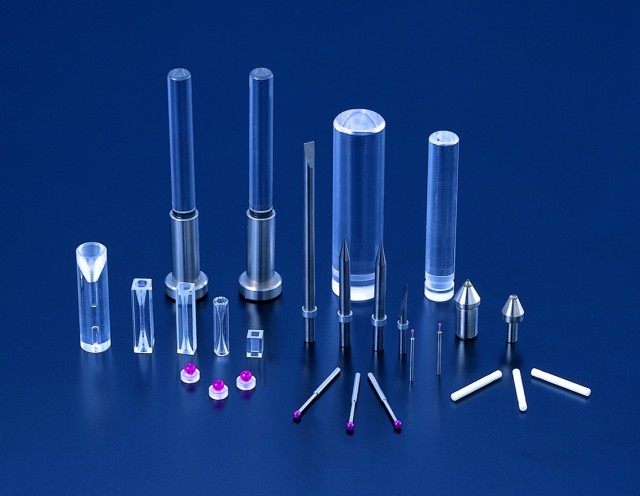 Products for analytical and measurement equipment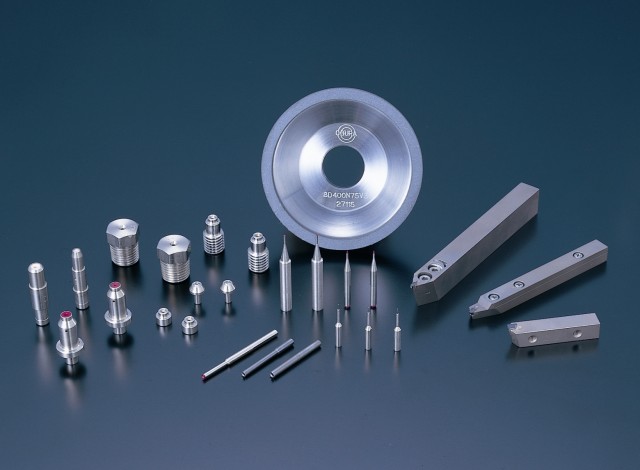 Products for machine tools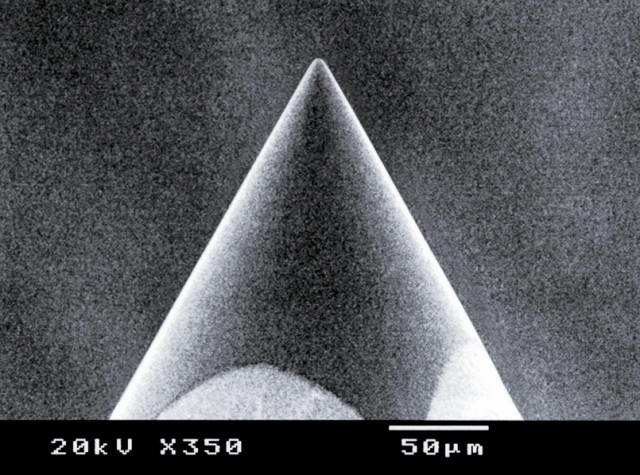 A diamond stylus - R2µm tip
Specialized Products, Technologies and Services
Principal materials handled
• Diamond (single crystal and sintered), sapphire, ruby, ceramics, cemented
carbide, and other various materials
Machining technology
• High-precision drilling
• High-precision tip machining
• High-precision flattening
Main product groups
• Single crystal diamond cutting tools and vitrified bond diamond wheels
• Styli for surface roughness and shape measurement, nozzles for magnet
wires and coil winding machines
• Sapphire windows for various sensors, parts for semiconductor manufacturing
equipment, and parts for analytical equipment
• Guides for electric discharge machines, water jet nozzles, and inkjet nozzles
• Other products
Current Status of Overseas Business
| | |
| --- | --- |
| On-site production | - |
| Sales bases (incl. dealerships) | Thailand, Korea and China |
| Export | Korea, China, Taiwan, Thailand, India, Singapore, EU, UK, and the USA |
| Import | Switzerland, EU |
| Outsourcing production /processing | - |
| Technology partnerships | Korea |
| R&D bases | - |
| Other | - |
Key Business Partners
• Industry of machine tool
• Industry of industrial equipment
• Industry of measurement and analysis equipment
• Industry of semiconductor
• Medical industry
• Acoustic industry

Future Target Countries and Regions
ASEAN
Overseas Business Prospects
Company Information
| | |
| --- | --- |
| Representative | Kyotaro Ogura |
| Address | 5-7-12 Omori-kita, Ota-ku, Ota-ku, Tokyo 143-0016 |
| URL | http://www.ogura-indus.co.jp/en/ |
| Established in | 1938 |
| Capital | 50 million yen |
| Employees | 213 |
| International Certification (e.g. ISO) | ISO 9001, ISO 14001 |
Contact
| | |
| --- | --- |
| Name | Yasuyuki Ohmori |
| Position | Sales staff, Sales department |
| Tel | +81-3-3763-3111 |
| Fax | +81-3-3763-3124 |